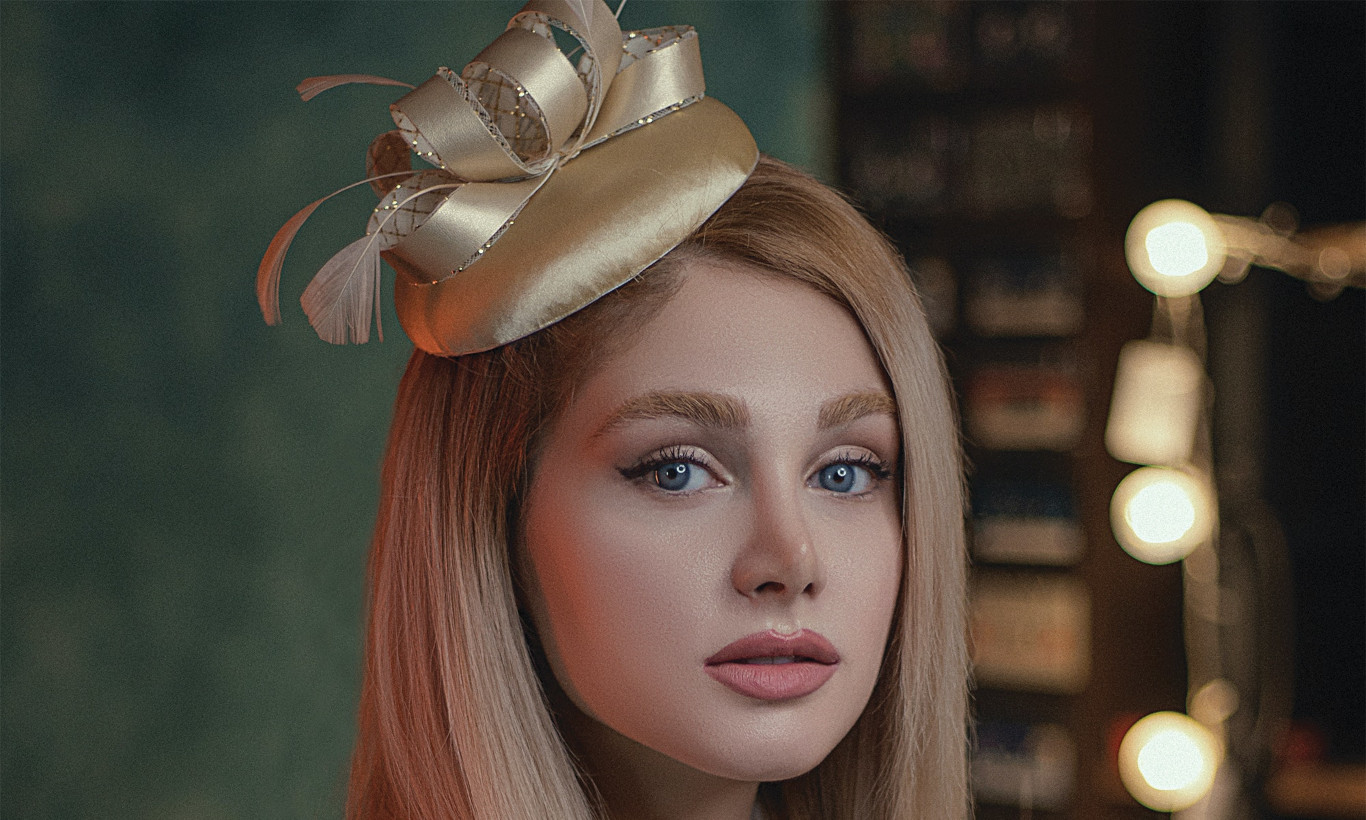 Fascinators
Season Sale & Free Shipping!
Black Friday Sale
Shop by Category
We Recommend
New In
Fan Favorites
On Sale
Best Sellers
Fascinator Hats
FascinatorHat is the ultimate destination for fashionable and elegant fascinator hats. We offer a wide variety of styles and colors to help you find the perfect headpiece for any occasion.
Our collection includes fascinator hats with feathers, flowers, netting, and more. Each fascinator is designed with attention to detail to ensure a unique and sophisticated look.
Whether you're attending a wedding, a tea party, or any special event, we have a fascinator hat that will complement your outfit. Our fascinators come in different colors, including black, white, red, blue, green, and more, to match any dress or suit.
Choose Fascinators by Color
At FascinatorHat.com, we're committed to providing our customers with the best selection of fascinator hats. Our hats are not only stylish but also comfortable to wear all day long.
Browse our collection today to find the perfect fascinator hat that will make you stand out from the crowd at any event.
Unleash Your Imagination
Fascinator hats provide limitless opportunities for creativity and self-expression. They let you play around with different forms, sizes, and embellishments to create a really one-of-a-kind and individualized design. Whether you prefer a small and delicate fascinator or a large and grandiose design, our collection has something for everyone. Allow your imagination to go wild as you learn the art of fascinator styling and create eye-catching combinations that represent your unique personality.
Fascinators will enhance your appearance.
With our assortment of fascinators at FascinatorHat.com, you may choose the right accessory to add a touch of elegance and beauty to your attire. Fascinators are elegant and classic headpieces that convey charm and grace. Our fascinators are designed to boost your style and catch your attention, whether you're attending a wedding, a formal event, or simply want to make a fashion statement.
A One-of-a-Kind Combination of Style and Tradition
Our fascinators are a one-of-a-kind combination of modern flair and traditional charm. These headpieces, with their elaborate designs, feathers, flowers, and embellishments, make a spectacular focal point and match a variety of outfits. Our fascinators are created to complement your originality, whether you choose a classic and elegant look or a striking and avant-garde style.
Ideal for Special Occasions
Weddings, cocktail parties, and race days are all great places to use fascinators. They provide a sense of refinement to your outfit, making you stand out from the crowd. Our fascinators are precisely created to provide you with an air of beauty and grace while remaining comfortable to wear during the occasion.
Showcase Your Personality
Fascinators, which come in a wide range of styles, colors, and designs, allow you to express your particular style and make a statement. Whether you prefer a bow, bridal, feather, or vintage-inspired fascinator, we have something for everyone in our selection. Choose one that complements your personality and adds a whimsical touch to your overall look.
The Craftsmanship of the Highest Caliber
Quality craftsmanship is important to us at FascinatorHat.com. Each fascinator is meticulously handcrafted from high-quality materials to ensure durability and attention to detail. Because of our dedication to craftsmanship, you can wear your fascinator for years to come, knowing that it is a true work of art.
Tips From Our Blog
Participate in Our Community
By purchasing a fascinator from FascinatorHat.com, you join a community of people who value the beauty and elegance of these headpieces. Connect with other fashion aficionados, share your fascinator outfits, and get ideas for new ways to accessorize your outfit. Join us on social media and become a member of the FascinatorHat.com community as we celebrate the creativity and timeless appeal of fascinators.
Types
Bow: Bow fascinators are a wonderful choice for individuals looking for a whimsical yet sophisticated style, as they add a sense of whimsy and femininity. The exquisite bows add a touch of grace and femininity to your outfit, making it ideal for outdoor parties or daytime occasions.
Bridal: A bridal fascinator can be the perfect finishing touch to your wedding dress on your big day. Bridal fascinators, whether embellished with lace, feathers, or sparkling decorations, lend a romantic and sophisticated touch to your bridal ensemble.
Fascinator Hats: The word "fascinator hats" refers to a variety of headpieces that blend the elegance of a hat with the complexity and flair of a fascinator. These eye-catching headpieces can be embellished with feathers, flowers, veils, and other eye-catching elements.
Feather: Feather fascinators radiate grandeur and drama. The silky and flowing feathers give movement and a touch of glitz to any outfit. These fascinators are sure to turn heads and create a statement, whether you choose a single feather or an array of feathers.
Flower fascinators: They add a touch of natural beauty and femininity to your ensemble. These fascinators, whether embellished with delicate silk flowers or bold and colorful blossoms, offer a pop of color to any outfit.
Statement: Statement fascinators are ideal for those who want to create a dramatic fashion statement. These eye-catching fascinators have enormous designs, elaborate workmanship, and attention-grabbing decorations. They are the definition of glitz and will make you the center of attention at any gathering.
Veil: Veil fascinators exude mystery and appeal. The delicate and translucent veils provide a mysterious element to your style, giving you a sense of sophistication and elegance. These fascinators, whether short or long, convey timeless charm and grace.
Vintage: Vintage fascinators are inspired by the grandeur of bygone times and capture the essence of traditional style. These headpieces frequently include vintage components like birdcage veils, feathers, and antique-inspired decorations. With a vintage fascinator, you may embrace nostalgia and transfer yourself to a moment of classic beauty.
Finally, FascinatorHat.com is your one-stop shop for finding the appropriate fascinator to complete your style. You can express your personal style, add a touch of elegance to your ensemble, and celebrate the artistry and timeless appeal of these exquisite headpieces with our extensive collection of fascinators, which includes bow, bridal, fascinator hats, feather, flower, statement, veil, and vintage fascinators. Explore our collection, join our community, and join FascinatorHat.com on a journey of style, refinement, and self-expression.
Adaptability for Every Outfit
One of the most appealing aspects of fascinator hats is their adaptability. They can easily transform any ensemble, from a beautiful cocktail dress to an elegant evening gown. A well-chosen fascinator hat adds charm and sophistication to any outfit, whether you're attending a wedding, a garden party, or a black-tie event. Choose a fascinator that complements the color scheme and design of your clothing, and watch as it transforms your ensemble into a work of art in style and elegance.
A Touch of Nostalgia
Fascinator hats have a long history dating back to the early twentieth century. These headpieces, which were originally worn by fashionable women attending horse races and other formal events, emanate a sense of timeless beauty and nostalgia. By wearing a fascinator hat, you are participating in a centuries-old custom that pays homage to the splendor and refinement of the bygone ages. Allow your fascinator hat to transport you to a time when grace and sophistication ruled supreme.
Expert Advice and Styling Suggestions
Choosing the proper fascinator hat can be a challenging undertaking at times. That is why we are here to help you at every step of the road. FascinatorHat.com offers expert advice and styling recommendations to assist you in making an informed decision. Our team is dedicated to ensuring that you feel confident and attractive in your choice, from selecting the proper size and shape for your face to pairing the perfect fascinator hat with your clothing. We believe that selecting a fascinator hat should be as much fun as wearing it.
Bespoke Designs and Customization
We understand the need for individuality and exclusivity at FascinatorHat.com. That is why, for individuals looking for a really one-of-a-kind fascinator hat, we offer customization and unique design services. Our trained artisans will collaborate with you to realize your concept, using your choice of colors, materials, and embellishments. Whether you have a certain theme or concept in mind or simply want a fascinator hat that expresses your personality, our customization choices ensure that you receive a headpiece that is as unique as you are.
Shopping Experience that is Safe and Convenient
We prioritize the security and convenience of your purchase experience at FascinatorHat.com. Our website is created to provide a smooth and user-friendly layout that allows you to easily browse through our selection. Our secure payment channel protects the privacy and security of your personal information, providing you with a piece of mind as you make your purchase. We also provide quick and dependable shipping to ensure that your fascinator hat arrives on time, ready to adorn your head, and improve your look.
With our carefully created headpieces, you may boost your look and draw attention at any special occasion. Explore the diversity of fascinator hats to express your particular style, embrace nostalgia, and release your creativity. Join our fascinator enthusiast group and embark on a voyage of fashion, elegance, and self-expression.
Here, where sophistication and glamour collide, and each fascinator hat tells a narrative of eternal beauty and uniqueness. Browse our amazing collection to find the ideal fascinator.
History of Fascinators
Fascinators date back to the 17th century when they initially became popular as a fashion ornament in Europe. They were originally small, colorful headpieces worn by women as an alternative to bonnets or hats. Lace, feathers, ribbons, and other delicate materials were commonly used to make them.
They acquired popularity throughout the Victorian era in the nineteenth century. Women wore exquisite fascinators that were ornamented with feathers, flowers, and even taxidermy birds. These headpieces were frequently worn at formal events like weddings, horse races, and social gatherings.
They were a popular ornament throughout the early twentieth century, particularly in the world of haute fashion. They were popular among fashionable women and were linked with refinement and sophistication. Fascinators grew in style, including veils, beads, and intricate ornaments.
They enjoyed a renaissance in the twenty-first century thanks to renowned personalities such as the British royal family. Kate Middleton, the Duchess of Cambridge, has been seen wearing fascinators to several public events, sparking increased interest in these headpieces. Fascinators became a favorite wedding, race, and other special occasion accessories, and their appeal spread beyond traditional fashion circles.
They are now well-known for their versatility and ability to give a bit of glitz to any outfit. They have evolved into a sign of style and uniqueness, letting wearers express themselves while also making a fashion statement. Fascinators come in a variety of styles, from traditional and subtle to bold and avant-garde, to suit a wide range of tastes and preferences.
Fascinators' history demonstrates their enduring appeal as a fashion accessory. Fascinators have lasted the test of time, embodying elegance, grace, and a hint of whimsy from their humble beginnings as little decorative headpieces to their modern-day versions. Fascinators continue to enthrall with their delicate craftsmanship and ability to elevate any outfit, whether worn by brides, guests of special events, or fashion-forward individuals.
Certainly! To further explore the topic of fascinators, consider the following:
Fascinator Style Evolution
Fascinator fashions have developed over time to include a wide range of designs, reflecting shifting fashion trends and personal tastes. Traditional fascinators had a round or oval base with decorative components attached; however, modern fascinators come in a variety of forms and sizes. Some popular styles are:
Disc: The base of these fascinators is a flat, circular disc that is often embellished with feathers, flowers, or other embellishments. Disc fascinators have a sleek and contemporary appearance, making them a popular choice for fashion-forward people.
Pillbox: Pillbox fascinators are small, cylindrical hats inspired by the renowned pillbox hats of the mid-twentieth century. They are usually adorned with feathers, netting, or bows, and they offer a sense of refinement and vintage appeal to any attire.
Percher: Percher fascinators are asymmetrical and eye-catching fascinators that sit on the side of the head. They are frequently linked to a headband or comb, which provides stability and comfort. Percher fascinators are versatile in terms of shape, size, and ornamentation, allowing for unlimited style possibilities.
Headbands: Fascinators for headbands are a convenient and comfortable solution. They are easy to wear and suited for a variety of hairstyles because they have a fascinator attached to a headband. Headband fascinators are popular for occasions such as weddings, where comfort and convenience of wear are essential.
Embellishments and Materials
Fascinators are made from a variety of materials, each of which contributes to their own style and appeal. Fascinators are commonly made from the following materials:
Feathers: Feathers provide fascinators movement, texture, and visual intrigue. They add a feeling of whimsy and refinement to the design, whether they are delicate plumes, vivid peacock feathers, or ostrich feathers.
Fabric: Simple fabric or silk flowers are frequently used to adorn fascinators, adding a romantic and feminine touch. Depending on the desired impact, these blooms might be little and delicate or enormous and dramatic.
Lace: Lace has always been associated with sophistication and elegance. Its delicate and intricate patterns bring a touch of retro charm to fascinators, giving them a timeless appeal.
Netting: Veiling or netting is a traditional fascinator element. It can be fashioned to partially conceal the face or to exude mystery and appeal. Netting gives fascinators an airy and romantic quality, especially when coupled with other ornaments.
Crystals and Beads: Crystals, beads, and sequins are frequently used to adorn fascinators with shine and glitz. Fascinators are great for evening gatherings or occasions that require a bit of luxury since they catch the light and provide an eye-catching look.
Selecting the Best Fascinator Hat
There are various elements to consider while choosing a fascinator to ensure it complements your dress and personal style:
Outfit Coordination: Consider your outfit's colors, patterns, and style. Choose one that complements your overall outfit rather than overpowering it. Consider using complementary or contrasting hues to create an eye-catching combination.
Facial Shape: Different fascinator types can complement various facial forms. Those with a round face shape, for example, may prefer one with vertical lines or height to create the illusion of extension, whilst those with an angular facial shape may prefer softer, curvier designs to balance their features.
Comfort and Stability: Make sure the one you chose is comfortable to wear for the duration of the event. Consider weight, attachment method (such as a headband, comb, or clips), and design balance to ensure it stays securely in place.
Consider the nature of the event: Any unique themes or dress rules are important. Some events may necessitate a more classic or formal fascinator, but others may permit more imaginative and avant-garde designs. Make your selection based on the mood and expectations of the gathering.
Fascinator Hat Styling Tips
Once you've found the ideal fascinator, it's critical to style it correctly to get a unified and polished look. Consider the following styling suggestions:
Hairstyles: Your hairdo can have a big impact on how the fascinator sits and how it matches your overall look. Buns, chignons, and twisted styles provide a sturdy platform for the fascinator to attach to, allowing it to take center stage. However, depending on the intended look, fascinators can be worn with either loose curls or smooth, straight hair.
Experiment: Try out with several placements on your head to find the most flattering position for your fascinator. Fascinators are often worn on one side of the head at an angle. Feel free to change the position and angle to suit your face shape and clothes.
Consider the dimensions: Ensure the right balance of your fascinator in relation to your clothing. If your fascinator is enormous and elaborate, choose simpler clothing to allow the headpiece to stand out. If your fascinator is more delicate and subtle, you can create a balanced effect by pairing it with a more elaborate or vivid costume.
Confidence: Wearing a fascinator is ultimately about displaying your particular style and confidence. Wear your chosen fascinator with pride and embrace its originality. Your fascinator becomes a true representation of your individuality and enhances your whole presence when you exhibit confidence.
Interests in Pop Culture and Current Events
Fascinators have not only remained a fashion mainstay, but they have also appeared in pop culture and at different high-profile events. Here are a few famous examples:
They acquired popularity after members of the British royal family, including the Duchess of Cambridge and Princess Beatrice, wore them to royal weddings. These high-profile events highlighted fascinators' elegance and adaptability, solidifying their standing as a go-to item for special occasions.
They have appeared on the red carpets at renowned events such as the Met Gala and the Kentucky Derby. Fascinators have been popular among celebrities and fashion icons as a method to create a fashion statement and show off their individual flair.
They have appeared in a variety of films and television series, most notably by characters attending formal events such as weddings. These on-screen representations have cemented fascinators as a mark of refinement and glamour.
They have made their way into music festivals and other artistic events where attendees want to show their creativity and stand out from the crowd. Fascinators featuring unusual characteristics like as LED lights or odd designs have become popular alternatives for people wishing to make a fashion statement.
As a Fashion Statement
Fascinators continue to captivate those who want to make a unique and stylish statement in an era of changing fashion trends. They are a pleasant variation from standard hats and headpieces, combining elegance, whimsy, and originality. Fascinators, whether worn at weddings, cocktail parties, race days, or other special occasions, have the ability to elevate any outfit.
Enjoy Shopping!
We curate a magnificent assortment of fascinators that represent the ageless charm and superb craftsmanship of these headpieces at FascinatorHat.com. Browse our collection to find the ideal fascinator to show your particular style, exude grace, and make a memorable impression. FascinatorHat.com is your gateway to elevate your image and indulge in the impeccable craftsmanship of fascinator fashion.