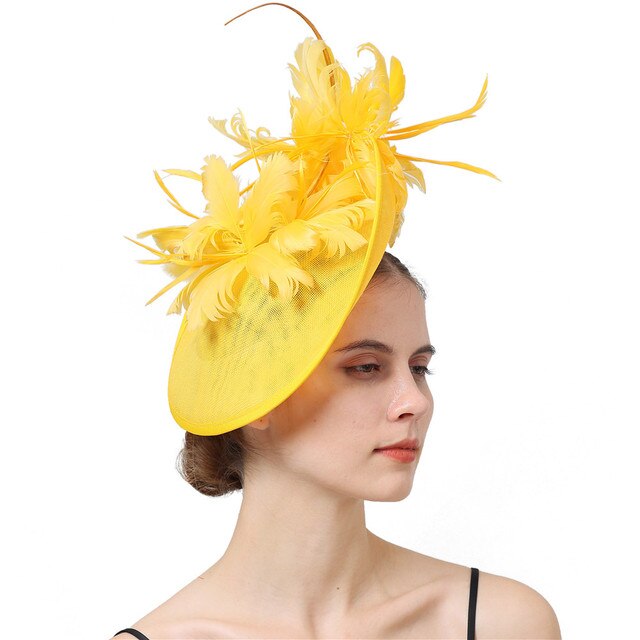 Fascinators are not limited to a particular season or occasion. These flexible headpieces may boost your look and lend a touch of refinement all year long. In this blog post, we will discuss how to adjust your fascinator style to the shifting trends of each season. Discover how to appreciate the essence of each season while remaining true to your particular fashion taste, from spring blossoms to winter elegance. Prepare to up your fascinator game and make a statement regardless of the season.
1- Spring Fling with Floral Delights
Infuse your fascinator style with the fresh and vivid energy of spring when nature awakens. Investigate floral-themed fascinators embellished with beautiful blossoms, elegant petals, and graceful feathers. Floral fascinators are ideal for weddings, garden parties, and other springtime occasions, whether you choose subtle pastels or bold and vibrant hues. Accept nature's beauty and let your fascinator bloom with the blooming flowers.
2- Summer Heat: Be Daring and Playful
When the sun shines, and the temperature rises, it's time to wear your most bold and playful fascinator designs. Make a statement with brilliant colors, strong patterns, and distinctive shapes. Allow your fascinator to represent the joyful and adventurous attitude of summer with enormous bows and fanciful embellishments. Stand out at outdoor events, summer soirees, and beach weddings with a fascinator that embodies the warmth and fun of the season.
3- Autumn Elegance: Warm Textures & Tones
Adapt your fascinator style to the rich and warm tones of fall when the leaves change hues, and the air becomes crisp. Investigate fascinators in earthy tones, deep reds, burned oranges, and dark browns. Incorporate textures such as velvet, lace, and feathers to create a comfortable elegance. With a fascinator that complements the captivating colors of the changing foliage, you may embrace the charm of fall weddings, harvest festivals, and seasonal festivities.
4- Winter Glam: Sophistication and Sparkle
When the chilly weather approaches, it's time to go all out with your fascinator choices. Choose fascinators with sparkling decorations, faux fur accents, and luxury materials like velvet or satin to embrace the romance of the festive season and formal winter gatherings. Delicate gems, sequins, or metallic touches can elevate your winter look. A dazzling fascinator can ensure you shine brightly even in the cold weather, whether you're attending a Christmas party, a winter wedding, or a New Year's Eve celebration.
5- Transitional and In-Between-Seasons Styles
As the seasons change, it's critical to have fascinators that can easily adjust to the shifting trends. Investigate adaptable styles that can be readily paired with a variety of outfits and can withstand inclement weather. Choose fascinators in neutral tones or with removable components to let you change up your style depending on the season or event. A fascinator with removable feathers or replaceable embellishments, for example, can provide versatility and guarantee you're ready for any event. During the transitional months, these flexible fascinators will become your go-to accessories, seamlessly bridging the gap between seasons.
6- Keeping It Classic: Fascinator Styles
While fashion trends come and go, traditional fascinator styles survive the test of time. Consider classic styles such as pillbox fascinators, elegant veils, or structured bows. These delicate and exquisite fascinators can be worn all year, regardless of the season or special trends. Purchasing a classic fascinator means that you will always have a go-to accessory that oozes sophistication and compliments any ensemble. A timeless fascinator lends a touch of ageless beauty to your wardrobe, whether you're attending a wedding, a formal function, or a day at the races.
You may modify your style to the shifting trends of each season by wearing the proper fascinators. Fascinators may enrich your look and reflect the spirit of each season, from flowery delights in spring to bold and lively designs in summer and from warm tones and textures in autumn to the dazzling allure of winter. You'll exude confidence and make a stunning statement at any event or occasion if you choose fascinators that complement your unique style and embrace the essence of the season. Keep up with changing trends and let your fascinators be a true representation of your style all year.